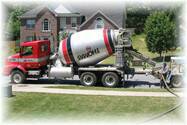 Rockett's Concrete   -   142 Kennet Drive   -   Suffolk   -   VA  23434    

E-Mail: mrockjr@yahoo.com - Ph: 1-757-971-9447 or 1-757-749-1450

Rockett's Concrete has over 20 years of concrete experience.

Rockett's Concrete is committed to total quality customer serivce.

We believe in doing things right the first time all the time.

By listening to our customers, we are able to tailor the scope and design of our construction in order to walk away at the end of yet another successful project confident that we have met and exceeded our homeowners' expectations.

Goal

Rockett's Concrete goal is to be the most respected concrete company.

Our company believes that customer satisfaction is a priority.

Areas of Concrete Work

Restoring and replacing concrete is the major aspect of our business. Our specialties are: patios, driveways, sidewalks, steps, block walls, foundations, and garage slabs. Incorporated into these specialties are stone, brick pavers, stamped and colored concrete. Any combination can be used to meet your needs.